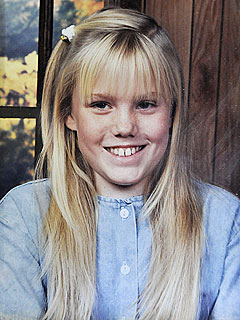 Here are Jaycee Lee Dugard photos as well as the press conference video that was held after the kidnapped girl was found years later by showing up unannounced at a police station in northern California. Read her biography, see the pictures and Jaycee Lee Dugard press conference video, and hear the moving story of how she was eventually found in that Antioch backyard.
The name of her (alleged) kidnappers are Phillip Craig Garrido and Nancy Garrido, age 58 and 54 respectively. He is a registered sex offender who served prison time during her captivity for an unrelated sex offense. He also had a prior sex offense in the 1970s which reportedly caused his ex-wife to divorce him.
The pictures below of Jaycee Lee Dugard are from her childhood and include police enhancements of what she might have looked like at age 20.
As a biography Jaycee Lee Dugard was born May 3rd, 1980. She was abducted June 10th, 1991 at the age of 11 years old from a bus stop in the sleepy town of South Lake Tahoe near Nevada. At the time she was only 4′6″ tall and weighted 80 pounds.
Jaycee spent the next 18 years living in a sound proof shack in the backyard of her abductors, reportedly at Phillip Garrido's address: 1550 Walnut Avenue, Antioch California, where he lists "Gods Desire" as a church there that he owns. She raised two children of her own in the backyard shanty, adding two more victims to the abductor's list of heinous crimes.
The young daughters of Jaycee Dugard are now 11 and 15 years old themselves. There is no word yet if her daughters were similarly the victims of sex crimes by their mother's abductors. An alert police officer in Berkeley California finally busted this case in conjunction with a parole officer. The daughters were in the backseat of his car during a routine traffic stop. He got suspicious when he ran a background check and discovered that Phillip Craig Garrido was a registered sex offender. After contacting the parole officer and questioning by police, the case was busted wide open in a few days.
Jaycee Lee Dugard was in the wrong place at the wrong time. She was walking from home to a bus stop when a vehicle approached and quickly grabbed her. An uncle gave chase on a bicycle by the car sped away. Police were unsure of that story until now, and the uncle remained under a cloud of unfair suspicion. In addition to the good news that is Jaycee Lee Dugard found alive, a rejoicing piece of news for the family is that his name is finally cleared.