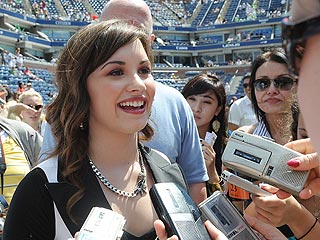 Demi Lovato appeared in
Sonny With a Chance
(Disney Channel Original Series) as Sonny Munroe (2009-present).
Sonny With a Chance
is a Disney Channel original comedy series created by Steve Marmel which follows the experiences of fictional teenager Sonny Munroe (Demi Lovato), who becomes the new cast member of a live comedy show, So Random!.
Sonny With a Chance
series debuted on February 8, 2009 in the US.
Sonny With a Chance
series premiered on May 29, 2009 on Disney Channel Latin America.
Sonny With a Chance
was announced in June 2009 that the show has been picked up for a second season.
Sonny With a Chance
is the 1st Disney Channel Original Series to be shot/aired In High Definition from the beginning; but like most of Disney Channel's sitcoms, it is shot on tape, but utilizes a 'filmized' appearance.
Allison "Sonny" Munroe
(
Demi Lovato
): The newest member of
So Random!
, she is from
Middleton, Wisconsin
. Friendly and caring towards those around her, she is known as the nice girl of the group and does her best to help other people with their problems and achieve her dreams, earning mixed results. Sonny is friends with Nico, Grady, Zora and occasionally Tawni. She also has a love/hate relationship with Chad Dylan Cooper, but as she starts to know him better, she starts to develop a major crush on Chad.
The main characters of
Sonny With a Chance
: (left to right) Tawni Hart (Thornton), Grady Mitchell (Brochu), Sonny Munroe (Demi Lovato), Chad Dylan Cooper (Knight), Zora Lancaster (Arm), and Nico Harris (Smith)