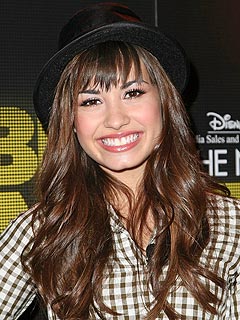 Demi Lovato appeared in As The Bell Rings (Disney Channel Short Show) as Charlotte Adams

As the Bell Rings
(a play on the
soap opera
As the World Turns
) is a
Disney Channel short show
based on the
Disney Channel Italy
series
Quelli dell'intervallo
.
As the Bell Rings
name is based on the show
As the World Turns
.
As the Bell Rings
format is a selection of short live-action comedy sequences.
Charlotte Adams

Portrayed By Demi Lovato (Season 1)(2007-2008) ************

Charlotte was the main female character in the first season as well as a very big part of Danny's love life. In Ladder Dudes, Danny asks Charlotte out and she happily agrees. Their feelings for each other are constantly shown, although they will never admit it to each other. Charlotte moves away at the end of Season 1 due to Demi Lovato filming Camp Rock, going on tour as the opening act to the Jonas Brothers, and starring in her new Disney Channel series Sonny With a Chance. The plot line did not entirely omit the character, leaving the possibility of the return of Demi Lovato as a guest star for Season 2. Charlotte and Lexi are presumed to be cousins because they share the last name "Adams".